Newsletter 10
Our expeditions in France
Hello to all,
This month we met and analyzed many French initiatives involved in the world of the circular economy. We invite you to discover in this newsletter part of this summer's CirculAgronomy journey, rich in meetings and discoveries!
Expedition A in the Southwest
Audren, Mathilde and Victoire made a 4-week trip to the South of France.
The expedition started in Bordeaux, where we met 3 projects, each of them valuing unsold bread in their own way, as well as a store selling responsible products, especially fruits and vegetables from their own farm!
Expliceat, a solution for the valorization of unsold bread from bakers in France thanks to the
Crumbler, a machine that reduces bread crumbs.
Seconde Tournée, gourmet recipes made from unsold breads
Couleurs Saison, the valorization of bread and vegetables thanks to the unavoidable French toast.
Les P'tits Cageots, a responsible store producing organic fruit and vegetables
We then spent 3 days on the Basque coast, and discovered a start-up:
Scale, having developed an innovative material from fish scales.
The following week near Pau was devoted to the meeting of two projects:
VirgoCoop, a cooperative that wants to recreate a hemp textile industry in Occitania.
Emmaus Lescar-Pau Village, a recycling centre that recovers, repairs and resells all types of objects brought in by local residents.
The third week takes place under the sun of Toulouse. 3 projects were interviewed:
Humus&Associés, an association that helps to set up composting sites in the residences of the metropolis of Toulouse. We had the chance to exchange with 3 residences integrated in the project in order to collect their feedback.
L'île aux légumes, a hydroponic farm in Montauban
La Brewlangerie, a bakery making bread from brewers' grains using unsold bread to make their own beer.
The trip ends in Montpellier, where we met the start-up Yuyo, which manufactures surfboards from recycled plastic.
Back in the Paris region, Audren and Victoire were able to meet with the Meudon town hall, which has notably set up a partnership with the Bergeries en Ville association for the management of its green spaces in eco-pasture.
The majority of the articles and videos for each project have been completed. But the work does not stop there, both on the website and with the recruitment of the new CirculAgronomie 2021 expeditions (more information in the next Newsletter)!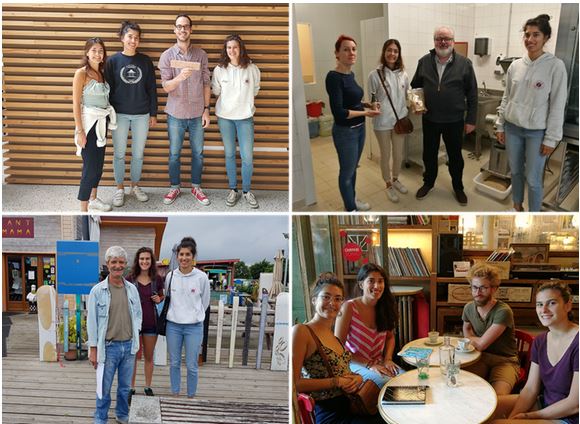 Guillaume de SCALE met in Anglet, Ludivine and Vincent de Seconde Tournée interviewed in Bordeaux, Philippe, one of the companions of the Emmaüs Village with whom we exchanged in Lescar and Romain, founder of the Brewlangerie met in Toulouse.
Expedition O in Perpignan and Paris
Salomé and Léna went to Perpignan for a week to meet 4 initiatives:
Localodrive, an eco-drive with zero waste of local products, mostly in bulk.
the Miam Collectif, and its associative and solidarity canteen which recovers and cooks unsold organic fruits and vegetables to offer vegetarian meals at free prices.
La Casa Bicicleta, a participative bicycle workshop where everyone can come and repair their bikes, whatever their level of knowledge.
Pousse-Pousse, a monthly box of zero-waste and eco-friendly products
Salome and Léna in their expedition to Perpignan and Paris. On the top left we are in the kitchens of the Miam Collectif, where we participated during 2 days in the collection of unsold goods, cooking and serving meals. You can also admire Léna listening attentively to Camille, the founder of Localodrive or the Salome status in front of the palace of the kings of Majorca.
Back in Paris we also met :
Arbiom, a future biorefinery to convert wood into food proteins
the founders of Fruit and Food, a platform for selling or donating surplus garden produce
New meetings are planned in Nantes and Lyon next month! Details in the next and last Newsletter of Léna.
A word from the two expeditions
We would like to thank all the people we met during our expeditions for their time and sympathy! What a chance to have met project leaders so inspiring, motivated and convinced that the circular economy is a solution to produce, consume and live more sustainably!
Our latest articles
We are now at 24 initiatives met for our expeditions this summer. Here are the summaries of 2 new articles that we have selected for you:
Expliceat (33)
Created 5 years ago in Bordeaux, this company works to democratize innovative practices for all actors with food surpluses, to achieve better eating and less waste on a daily basis. More particularly, they are at the origin of the Crumbler project, an anti-gaspi bread-making tool for professionals. More than 50,000 tons of bread are lost each year in France and this machine sold to artisan bakers throughout France allows unsold bread to be transformed into breadcrumbs. This breadcrumbs can then be reused in many sweet or savoury recipes (cookies, muffins, pie dough, pizza dough …). Expliceat saves 2 tons of bread per year and per bakery thanks to the Crumbler!
You can find the complete article and the video – with an interview with Frank, founder of Expliceat and a testimony of Guillaume, manager of a bakery which owns a Crumbler – by clicking here
SCALE (64)
Scale is a start-up from the Basque Coast having invented a sustainable material from fish scales! This co-product does not yet have any value chain and thousands of tons are thrown away each year worldwide (with for example 2 to 3 tons of sardine scales thrown away per week for a large fish wholesaler).
However, this material has very interesting properties: it is resistant and can be welded without glue. It is therefore a very interesting co-product to create eco-designed, bio-inspired, bio-sourced, biodegradable and recyclable products!
You can find the complete article and the video by clicking here
They talk about us
CirculAgronomy in Planète Agro magazine
Many thanks to Uniagro for dedicating a page of the last Planète Agro on the theme of circular economy to our student association CirculAgronomie!
Planète Agro can be consulted online and downloaded for all Uniagro members, after connection, on this page. 
You can also find the article Les étudiants agro et l'économie circulaire : CirculAgronomie via this link.
CirculAgronomy in the AgroParisTech Foundation's Webseries
Victory our president intervened for the video CirculAgronomie of the Web series "Un jour un projet" of the AgroParisTech Foundation.
She presented our project and our association for the AgroParisTech network.
This Webseries has accumulated more than 15,000 views on YouTube, Facebook, LinkedIn and Instagram.
The CirculAgronomy association
CirculAgronomie is an association created in 2016 by two AgroParisTech students as part of a gap year project. Our ambition is to link circular economy projects around the world in the fields of agriculture and food industry. We analyze their social and environmental impact and their reproducibility through the seven pillars of circular economy described by ADEME. To do so, students in gap year carry out expeditions to different countries every year. This year, we will be 5 students… in France!
Newsletter CirculAgronomie

Subscribe


Facebook


Youtube


Linkedin


Instagram

Copyright CirculAgronomie 2020