Newsletter 11
End of expeditions 2020 and new team 2021!
Hello to all,
The 2020 expeditions ended in August. At the beginning of the year we recruited the new team that takes over the torch of the association, Aline and Alexandre. We accompanied them in the beginning of their steps and we wish them a wonderful expedition!
A look back at the 2020 expedition
Expé A
The expedition of Audren, Mathilde and Victoire ended in July. In total, we met 15 projects in 1 month and a half of travel! Each meeting was very rich and we thank once again all the people who devoted time to present their innovative circular economy projects to us!

News from the team :
Audren is in her last year of Master in Management at ESCP in Berlin and is following the course Sustainability: rethinking business models and the corporation for social innovation. Mathilde is in her last year at AgroSup Dijon and specializes in Agroecology for sustainable crop production. Finally, Victoire has integrated the Master 2 of AgroParisTech Economics of Sustainable Food!
Expé O
Léna and Salomé finished their expedition in August with the meeting of two projects:
Biomédé in Lyon: this start-up is the pioneer and world leader in the extraction of heavy metals from agricultural soils by plants.
MicroAlga in Nantes: an innovative young company from the Pays de la Loire region, specializing in the development and manufacture of microalgae production solutions.
Expedition #O (for Oceania, destination left too quickly) met with 11 project leaders in 3 months. The discoveries were very enriching, with multi-sector initiatives, proposing innovative and meaningful solutions. Thank you to all those with whom we exchanged and shared unforgettable moments!
News from the team :
Léna is starting her double degree at HEC and is involved in the HEC sustainable development association. In particular, she had the privilege of leading a conference on micro-credit in the presence of Muhammad Yunus (Nobel Peace Prize, 2006). Salomé entered the AgroParisTech Master 2 in Sustainable Food Economics with Victoire!
Presentation of the 2021 expedition
CirculAgronomie 2021: New year, new team, new horizons!

This year, a new team is joining the Circulagronomie adventure. Aline and Alexandre, both students at AgroParisTech, are taking over the reins of the association for this new season. As every year, an expedition lasting more than 5 months will be organized in order to meet actors of the circular economy, analyze their project and raise awareness of these initiatives in agronomy, environment and food processing. They will travel throughout France and Europe to discover the circular economy initiatives that will make the world of tomorrow.
Our latest articles
Vous n'avez pas encore eu l'occasion de découvrir les initiatives rencontrées cet été ? Voici nos dernières publications :
Bergeries en Ville – Clamart
Bergeries en Ville is an association that offers an eco-pasture service in the Haut de Seine to municipalities, companies and public institutions. Eco-grazing is a method of ecological maintenance of natural spaces and territories through the grazing of herbivorous animals. Thanks to her flock of sheep and goats, Marie, the president of the association, maintains 6 ha in ecopastoralism, the equivalent of 8.5 soccer fields. We also met with the Meudon town hall, a partner town of the association, who illustrated the many advantages of eco-pastoralism: cheaper service for uneven terrain or terrain difficult to access by gardeners and machines, work time saved on difficult terrain, less noise from machines (mower, brushcutter, blower) …
To learn more about the environmental, social and economic benefits of eco-pasture, you can find the full article and the video, with an interview with Marie, the president of the association, by clicking here
Sensei Family – Paris
Sensei Family is a young company that aims to develop more sustainable consumer products, with part of the profits going to environmental protection associations. Their first product is the Papa Outang spread. Papa Outang is simply composed of three ingredients: hazelnuts, cocoa and sugar. This gourmet dessert does not contain palm oil, whose exploitation has a negative impact on the forest in Indonesia in particular. 10% of the profits are donated to the Kalaweit association which fights against deforestation on the island of Borneo due to palm oil production.
You can find the complete article by clicling here
CirculAgronomy this autumn
Intervention with the students of the Lycée-Franco Allemand in Buc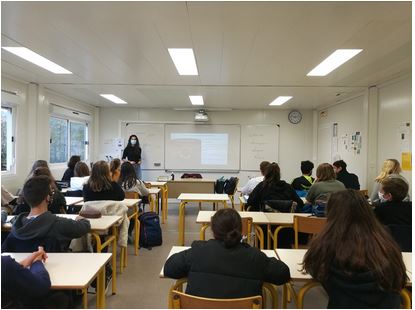 Tuesday, November 10, 2020, Victoire spoke at her high school near Versailles. She was able to present the circular economy and the projects encountered this summer to 3 classes of second and first graders. The students thus discovered the stakes of the circular economy and its concrete application through examples of projects encountered during our expedition.
Their feedback was very positive and we are very happy to have made them discover this fascinating subject!
Thank you to Mrs. Perraud for her involvement in our project and for the organization of this intervention!
Some feedback from the students :
We found the intervention very interesting. Victoire managed to explain circular economy in a very clear, synthetic and accessible way. The examples of companies and associations that she presented helped us to understand concretely how this economy is applied today! Marie, Hermine and Clara
The presentation was clear and the graphics simple to understand, helping to better follow the topic. It caught my attention when I didn't think the topic would be particularly interesting. I was mistaken. Eleonore
It made me realize that there was a type of economy that was more respectful of the environment, it made me want to participate in that type of economy. Adèle
Unfortunately, the confinement will not have allowed us to present the association and the 2020 expeditions to other audiences for the moment. We would like to privilege face-to-face rather than remote interventions to allow a better exchange. We hope to be able to organize other return mission conferences in 2021.
The CirculAgronomy association
CirculAgronomie is an association created in 2016 by two AgroParisTech students as part of a gap year project. Our ambition is to link circular economy projects around the world in the fields of agriculture and food industry. We analyze their social and environmental impact and their reproducibility through the seven pillars of circular economy described by ADEME. To do so, students in gap year carry out expeditions to different countries every year. This year, we will be 5 students… in France!
Newsletter CirculAgronomie

Subscribe


Facebook


Youtube


Linkedin


Instagram

Copyright CirculAgronomie 2020