After working as a sales assistant in the food industry (organic and conventional), Camille Margotton realized the many aberrations of this environment. She was shocked by the practices of some large companies, and wanted to launch her own eco-responsible sales activity in accordance with her ecological values. 
She therefore wished to open her own store, and initially followed the trail of the "Day by day" bulk grocery franchise, but she would have had to pay 50k€ for the franchise, work with a central purchasing office and set up store in the center of Perpignan. Instead, she preferred a cross-cutting concept: local commerce, "on a human scale", far from the large commercial areas of Perpignan, which sells organic products, supplied by local producers, sold in bulk, and available for online ordering. 
The choice of the Drive was made because it represented a lower investment (much less installations are needed compared to a store), it was less restrictive and more hygienic (Camille uses her own pots that she recovers and then washes in her professional washer). She decided to locate her Drive in Cabestany – in the Perpignan agglomeration – because she is aware that the city center is not dynamic enough and that Perpignanese people are used to go shopping by car in the big shopping centers on the outskirts. She therefore wished to offer them a more sustainable alternative to the traditional large supermarkets.
With 40k€ in subsidies, Camille was able to buy in equity: initial stock (14k€), develop her website (10k€), crockery (2k€), a fridge (2500€), a washer (1000€), shelves (500€), safety equipment (400€), and drive rentals (2000€/month). To fit out her drive, Camille has favored reuse, for example by recovering pallets to make her counter or by recovering shelves to be destroyed for the storage of her pots. In addition, her front was generously made by her artist father. 
Currently, internet sales represent only 50% of the turnover, the other half being direct sales, because his customers like to come to the Drive to see the products and choose. Camille has therefore recently renamed the LocaloDrive's title: "grocery and drive", and plans to open a more formalized grocery store in September 2020 with the move to a new location.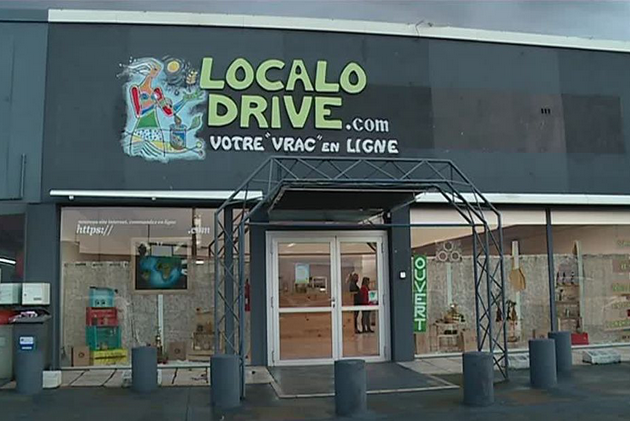 The localodrive, the drive of Camille Margotton