Producers deliver their products every week to the grocery store and organize co-location tours² if they live close to each other. Maryse and Mathilde regularly fill the jars and the stainless steel bins of the store with the delivered products. Delivery packaging (cans, boxes, etc …) are washed and recovered at each tour by the producers to be reused for the next delivery.
The grocery products are seasonal, local (85% of them come from the Vienne and the Deux-Sèvres) and if possible, organic (more than 50% of the proposed products).
Customers bring their containers (jars, boxes, sachets …) and use the bulk products with the help of stainless steel utensils. Reservoir jars (jars of jam, etc …) are provided in case of forgetfulness. This provision is free, the goal is not to charge the customer but to encourage him to come the next time with his own containers.
Here, customers are not pushed to consume more, on the contrary, they are sensitized to consume in just quantities. Almost all prices are fixed per kilo, no need to fill the bottle of oil to the brim!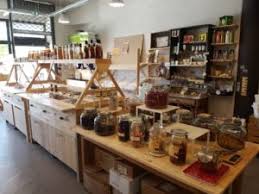 From the hygiene side, nothing to complain about, the jars are cleaned before each new use and the shop is immaculate.