2009: After carrying out its first carbon assessment in 2008, the Bordeaux Wine Sector is committed to a collective environmental approach through its Climate Plan 2020, which includes the following 4 objectives by 2020:
Objectives of the 2020 Climate Plan; Roadmap of the 2020 Climate Plan
2013: The 2nd carbon balance of the sector shows a positive result since an overall reduction of 9% of its greenhouse gas (GHG) emissions has been achieved over 5 years (i.e. approximately 16,500 tonnes of CO2 eq per year on average). These results can be explained in particular by several actions, such as the reduction in the weight of glass bottles, despite the increase in expenditure on energy and greenhouse gases.
Evolution of the carbon footprint of the Bordeaux Wine Industry; Roadmap of the 2020 Climate Plan
2020: To achieve the Climate Plan's objective, these emissions must be reduced by 11% by 2020 (i.e. an average of 14,500 tonnes of CO2 eq per year). The main points of improvement identified are: optimising freight and travel, reducing inputs and direct energy (4) and valorising biomass.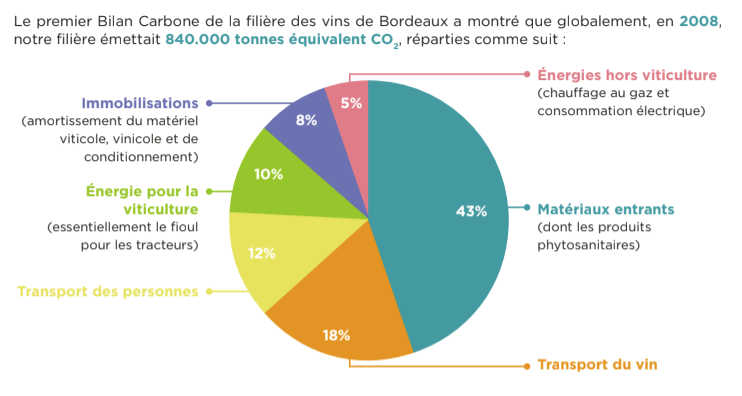 Different sources d'of emissions of GHG of Bordeaux's Wine Industry; Roadmap of the 2020 Climate Plan
Working groups of around fifty players from the sector with different profiles* met 5 to 6 times between 2015 and 2016 around the following 4 themes:
Vineyard management,
Vinification,
Transversal Initiatives,
Circular economy (recovery of by-products, recovery of CO2, etc…)
* Winegrowers, merchants, cooperative wineries, transporters, energy specialists, suppliers, researchers, etc.

One of the outcomes of these working groups is the Roadmap 2016. It is a pragmatic document, co-constructed with the actors of the sector and evolving, made available to them, describing the approach, the means and the tools to reach the objectives of the Climate Plan 2020, as well as examples of success stories illustrating the actions in the field that work on an individual basis, having an impact on one of the 4 objectives of the Climate Plan, and to be deployed at the scale of the sector to the greatest number. Action Sheets describe these success stories and provide concrete solutions to stakeholders.